InterGate Web Security 'On-Premise'
Complete network protection
InterGate Web Security 'On-Premise' provides proactive web security to help enforce company Internet use policies and to block threats on a highly selective and granular level. Furthermore, the number and type of threats it protects you from is constantly being updated automatically without any intervention on your part.
Learn more about InterGate Web Security 'On-Premise'
Prefer a Cloud based solution? Learn about our online service.
Sophisticated automated & user defined content filtering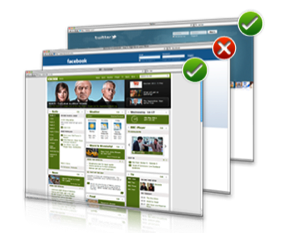 Filtering by user, group or global rules
Customise filtering by category, site, directory or page
Customise filtering by protocol or file type
Manage web access by time of day
Zero day dynamic threat protection
Bulletproof 24x7 threat immunity
Real-time emerging threat identification
Automatically updating threat database
Block threats before they strike
Scalable protection for any-sized network
Pass-by "sniffer" monitors & filters web traffic
Zero impact on network performance
Offers protection for any sized network
Works in any network environment
Intelligent monitoring and reporting
Increased awareness of security breaches
Drillable and configurable reports
Display activity by numerous categories
Single global view of all network activity
Powered by IBM ISS (Internet Security Systems) Filter Database
InterGate's URL filtering mechanism is powered by the IBM ISS Filter database which contains a comprehensive list of 100 million web sites subdivided into 80 categories. This list is updated by IBM several times a day and automatically applied by your InterGate installation, ensuring you benefit from up-to-date protection.
Recommendations
"Vicomsoft InterGate provides a configurable Internet gateway which includes complete control of network protocols and security. A highly commendable package."
i4free.co.nz